uBlossom Fall Retreat at Strathcona Park Lodge
Use the of the promotional code MAGIC to enjoy the discount of $125 off the regular ticket price of $525.
**The pricing is valid now until tickets sell out, or 1 week prior to the event!**
Make space for U! Give yourself permission to explore what inspires you – Mind, Body and Spirit. Join us for an unforgettable weekend for women at the beautiful Strathcona Park Lodge. Unplug, relax and connect with a collective of women, who are inspirational and lift YOU up! Your all-inclusive weekend will leave you rested and clear minded, and equipped with tools for your self-care toolbox. Think of it as an internal massage for your soul!
It's all planned for you, simply book your ticket and arrive-ready for bliss! Your uBlossom team awaits you!
 uBlossom Team Member Angela Willard
Workshop (2 of 7): Women's Natural Health and Herb Walk
This workshop offers a range of women's wisdom that will cover universal feminine health principles. Delve deep into the physiology of how women's bodies react to life's variables, and optimal choices we can make in response. The information presented will allow you insight into the use of herbal, nutritional, and lifestyle practices that can be implemented into your life anytime, encouraging balanced hormones and the experiencing of well being.
We will explore the surrounding wild area to discover what nature provides us with for food and medicine. Learn the many benefits this land provides to our good health and well being!
Your Weekend Includes:
Your choice of concurrent workshops and activities for YOUR Mind, Body and Spirit. 
MIND – Yoga with Leanne, The Time Freedom Formula-How to Avoid Burnout with Amy, Clear your Mind and Empower your Beliefs with Jeannie
BODY –
Aromatherapy 101 & Everyday Uses for Essentia Oils with Deanna, Bellyfit Group Class with Leanne, Women's Natural Health and Herb Walk with Angie
Hike local trails, Swim, Paddle, Rest, Sleep, Breathe
SPIRIT –
Morning meditation with Jeannie, Personal time – connect with your intuition, reflect and re-align your values
-2 Nights comfortable shared accomodation**
-6 Delicious and nutritious meals
Treat Yourself to a few upgrades:
Mixed Media Collage Workshop: $15 for supplies, limited space, book your spot with your ticket and pay cash when you arrive.
Create a beautiful, mixed media collage featuring words and images close to your heart. Nicole will guide you in layering imagery, colours and patterns using a variety of art supplies to create this touchstone piece that you can hang in your home. This artwork will serve as a visual reminder of the values and intentions that you are cultivating in "your one wild and precious life" (-Mary Oliver, The Summer Day).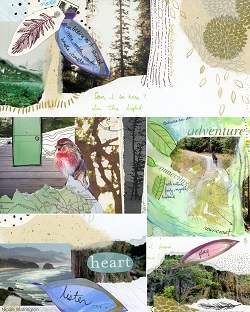 Bodywork: Reiki/Aromatherapy Sessions with Deanna – 1 hour $80 includes a custom aromatherapy blend. Book and pay directly with Deanna at the retreat when you arrive. Mini-sessions available as well.
Massage with Kirsten – 1 hour $115 Book and pay directly with Kirsten at the retreat when you arrive. Shorter sessions available as well.